The Future of Transnational Institutions and Organizations
This week we trace how transnational institutions and organizations (TNOs) are accruing and wielding old and new forms of power. We also consider whether they should use the power they have to enforce the rules of the international system or to persuade other actors to follow their example. Finally, through a series of case studies we identify some of the specific barriers that TNOs currently face and ask what these barriers mean for their collective futures.
To accomplish the above steps, we begin with a relatively straightforward question: should the transnational organizations of the future be regarded more as 'enforcers' or 'persuaders?' From there, we apply this debate to the complex issue of regulating the global commons. We look at the classic works of Garrett Hardin and Elinor Ostrom to consider whether our commons should be formally regulated by TNOs or whether 'local' self-regulation would be more appropriate. Our analysis of how to regulate the global commons then provides us the framework we need for three case studies. We first assess how the enforcement power of the International Criminal Court (ICC) continues to exacerbate tensions with local actors and their interests. We then examine the changing nature of United Nations peacekeeping operations, asking whether the movement towards a more norms-oriented approach to peacekeeping is desirable and needed. We conclude by asking whether the International Atomic Energy Agency (IAEA) effectively combines the powers of enforcement and persuasion, thereby making it a model TNO for the 21st century.
---
09 Apr 2012 / Special Feature
Are norms-based approaches more helpful than enforcement-oriented ones? Or are those who favor persuasion simply trying to escape regulation and accountability? More on «The Power of Persuasion»
---
---
---
12 Apr 2012 / Audio
While norms and soft power are becoming more important to UN peacekeeping, enforcement remains the only way to protect those whose lives are in danger, explains Kieran Dwyer. More on «Keeping the Peace in the 21st Century»
---
13 Apr 2012 / Audio
Dr Trevor Findlay of CIGI discusses the capabilties and shortcomings of the International Atomic Energy Agency (IAEA). As part of our discussion of the future of transnational institutions and organizations, this case study of the IAEA profiles an institution which combines regulatory powers with the powers of example and persuasion. More on «The IAEA: Balancing Influence and Enforcement?»
---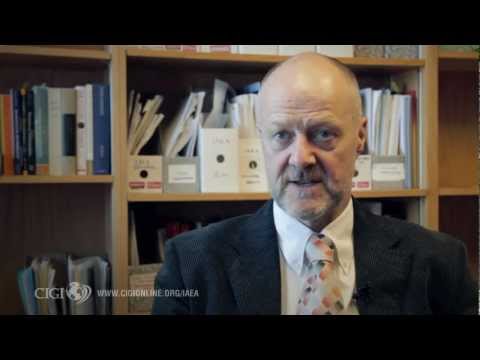 ---
---
---
---
Related Content